Allied Landing Craft and Ships
Choose the model
DUKW -- LBE -- LBK -- LBO -- LBV (M) -- LCA -- LCC (1) -- LCF (3) -- LCG (L) (3) -- LCH -- LCI (L) 1-350 -- LCI (L) 351-1098 -- LCM (3) -- LCP (L) -- LCS (L) (3) -- LCS (S) (1) -- LCT (5) -- LCT (6) -- LCV -- LCVP -- LSD -- LST -- LVT (2) --
---
LANDING CRAFT, CONTROL (MARK 1)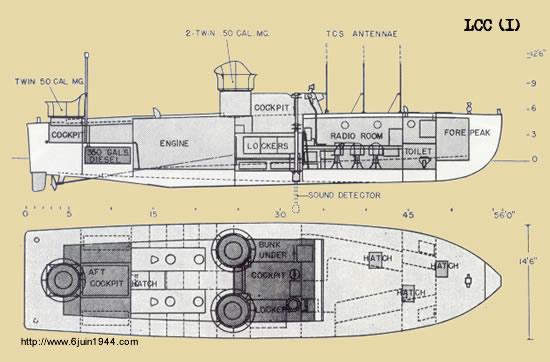 Operational use: As lead-in navigational craft for landing boats; to mark line of departure; for traffic control; for preliminary hydrographic surveys.

Description: Similar in appearance to the LCS (S), this steel-hull craft is distinguished by its collapsible antennae and radar. Usually carried on the decks of APA's and AKA's and lowered by booms. Not intended to beach.

Endurance: 500 miles @ 10 kts.; 240 miles @ max. speed.

Speed: 13½ kts. (max.).

Dimensions: Length, 56'0'' o.a. Beam, 13'7''.

Displacement: 30 tons. Draft, 3'11½'' (max).

Capacity: Crew only.

Armament: 3 twin .50-cal. M.G. on ring mounts; smoke pots.

Special Equipment: Gyro Compass. - Odograph (small DRT). - SO radar w/VPR scope. - QBG underwater sound equipment. - NK-2 echo sound receiver. - ZB/RU radio directional equipment. - NJ-8 echo sound receiver. - 2-TCS radio transmitter / receivers. - Gyro repeater. - 2-SCR 610 (FM radio transmitter / receivers.)

Crew: 14

Propulsion: 2 Diesels, 225 hp. each.

Fuel: 550 gals. fuel oil.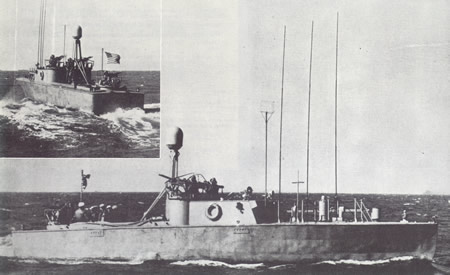 Source : ONI 226 - ALLIED LANDING CRAFT AND SHIPS - NAVY DEPARTMENT