Allied Landing Craft and Ships
Choose the model
DUKW -- LBE -- LBK -- LBO -- LBV (M) -- LCA -- LCC (1) -- LCF (3) -- LCG (L) (3) -- LCH -- LCI (L) 1-350 -- LCI (L) 351-1098 -- LCM (3) -- LCP (L) -- LCS (L) (3) -- LCS (S) (1) -- LCT (5) -- LCT (6) -- LCV -- LCVP -- LSD -- LST -- LVT (2) --
---
LANDING CRAFT, ASSAULT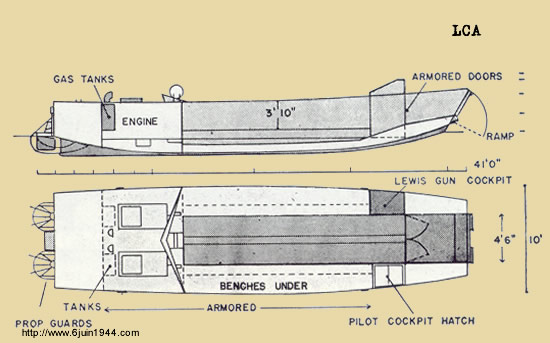 Operational use: For raiding operations or large-scale landings of troops from transports.

Description: The first British standard assault type, still being built in the Pacific area. This type is standard equipment on most of their transports, usually carried on davits. The same design has been adapted to the LCS (M) and LCA (HR).

Capacity: 35 troops and 800 lb. equipment. Troop space 18' x 8'10''.

Endurance: 50-80 miles @ 7 kts. - (loaded), 65 miles @ full speed. - 100 miles in special craft.

Speed: 6 kts. (loaded), 10 kts. (light).

Dimensions: Length, 41'6'' with prop. guards. Beam, 10'0''.

Displacement: Light, 9 tons. Draft, 1'1'' for'd, 1'9'' aft.
Loaded, 13 tons. Draft, 1'9'' for'd, 2'3'' aft.

Armament: 1 Bren gun in port cockpit, 2-.303 Lewis guns, 2-2'' mortars are being fitted aft.

Armor: 10-lb. DIHT to bulkheads and hull sides, 7.8-lb. DIHT to hold decks (see drawing); 10-lb. parapets can be fitted.

Crew: 1 officer per 3 craft, 4 men.

Propulsion: Two 65-hp. Ford V-8 engines; twin screws.

Fuel: 64 imperial gallons gasoline; some units carry 98 gallons.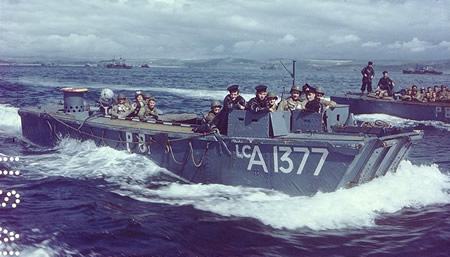 Source : ONI 226 - ALLIED LANDING CRAFT AND SHIPS - NAVY DEPARTMENT