Allied Landing Craft and Ships
Choose the model
DUKW -- LBE -- LBK -- LBO -- LBV (M) -- LCA -- LCC (1) -- LCF (3) -- LCG (L) (3) -- LCH -- LCI (L) 1-350 -- LCI (L) 351-1098 -- LCM (3) -- LCP (L) -- LCS (L) (3) -- LCS (S) (1) -- LCT (5) -- LCT (6) -- LCV -- LCVP -- LSD -- LST -- LVT (2) --
---
LANDING CRAFT, PERSONNEL (LARGE)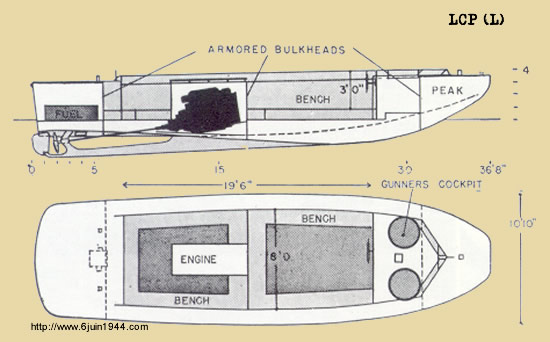 Operational use: Standard Unites Nations wooden assault boats for beaching operations.

Description: Early Unites Kingdom type has enclosed cockpit, which has been used as a gunner's position in later U.S. model. Both types are being superseded in production by the LCP (R), LCVP. Both may be lowered from davits in a loaded condition unless otherwise specified by warning plate in boat. N° 1-500 U.K. type - N° 500- U.S. type

Capacity: 30-36 troops, or 6,700-8,100 lb. cargo, depending upon fuel load.

Speed: 8 kts. (fully loaded).

Endurance: 50 miles (gasoline). - 130 miles (diesel).

Dimensions: Length, 36'8'' o.a. Beam, 10'10''.

Displacement: Light, 13,000 lb. Loaded, 18,000 lb.

Draft: 2'6'' aft. (light) 3'6'' aft. (loaded).

Armament: Two .30-cal. in cockpit.

Armor: 3 transverse 10 lb. bulkheads.

Crew: 3.

Propulsion: One Hall-Scott 250-hp. gas engine, or Kermath 225-hp. gas engine, or Gray 165-225-hp. Diesel, or Superior 150-hp. Diesel.

Fuel: 120 gal. gas or Diesel fuel.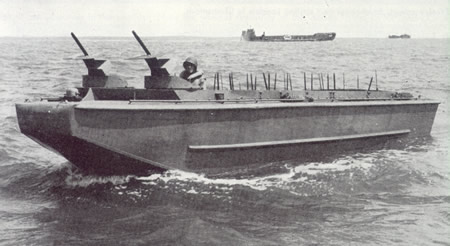 Source : ONI 226 - ALLIED LANDING CRAFT AND SHIPS - NAVY DEPARTMENT