Allied Landing Craft and Ships
Choose the model
DUKW -- LBE -- LBK -- LBO -- LBV (M) -- LCA -- LCC (1) -- LCF (3) -- LCG (L) (3) -- LCH -- LCI (L) 1-350 -- LCI (L) 351-1098 -- LCM (3) -- LCP (L) -- LCS (L) (3) -- LCS (S) (1) -- LCT (5) -- LCT (6) -- LCV -- LCVP -- LSD -- LST -- LVT (2) --
---
LANDING BARGE, VEHICLE MARK 2 (POWERED)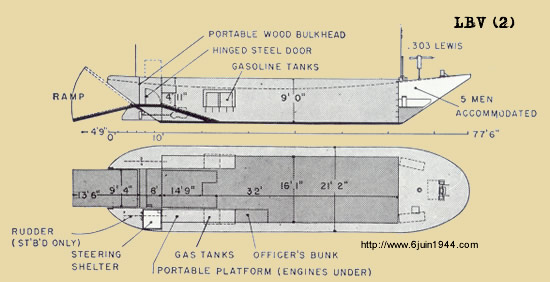 Operational use: Commercial barges converted to transport and embark vehicles in the initial stage of the landing. Also used as ship-to-shore lighters for general cargo.

Description: Steel "swim" barges of various dimensions, similar to the LBF and LBE. A 9'4'' stern ramp services the hold. Mark 1 designates the "dumb" barges, Mark 2 the units with engines installed. All were formerly designated by size, such as LBV (S), etc. Drawing shows LBV (M).

Dimensions: Width of hold 14'-15' - Length of hold 50' - Over-all length / width 78' / 20' - Height to underside deck 7'6''
Allow for 15% variation in class.

Capacity: (Approximate) 150 tons. Two 6-pdr. guns, 3 lorries or two 3-ton lorries, one 15-cwt. lorry, two 30-cwt. lorries.

Speed: 3-5kts (maximum)(loaded).

Endurance: 360 miles @ 5 kts.

Draft: (Average) 4'-4'6'' mean (loaded).

Armor: Concrete hull sides; 2½ plastic to gas tanks when fitted; 2 portable steel bulkheads inboard of ramp.

Propulsion: 2 Chrysler RM Gas engines, one rudder.

Source : ONI 226 - ALLIED LANDING CRAFT AND SHIPS - NAVY DEPARTMENT