Allied Landing Craft and Ships
Choose the model
DUKW -- LBE -- LBK -- LBO -- LBV (M) -- LCA -- LCC (1) -- LCF (3) -- LCG (L) (3) -- LCH -- LCI (L) 1-350 -- LCI (L) 351-1098 -- LCM (3) -- LCP (L) -- LCS (L) (3) -- LCS (S) (1) -- LCT (5) -- LCT (6) -- LCV -- LCVP -- LSD -- LST -- LVT (2) --
---
LANDING BARGE, EMERGENCY REPAIR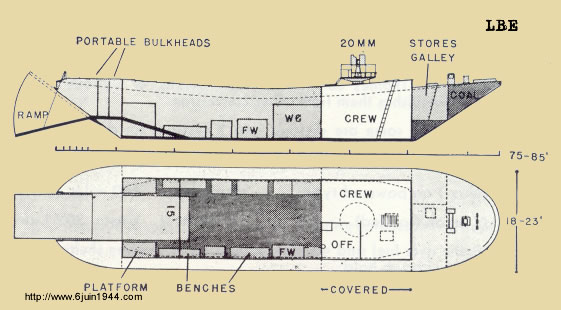 Operational use: Small floating repair units for the maintenance of minor landing craft in a beach area. Mobile repair facilities are later debarked onto the beach.

Descrition: Converted steel commercial dumb barges of varying dimensions, equipped with a stern ramp. Similar to the LBO, LBF, and LBV.

Capacity: 3-ton workshop lorry (N° 4 Mk. 3)

Dimensions: 75'-85' x 18'-23'.

Draft: 4'-4'6'' mean (loaded).

Lorry: 6'' lathe; hand and electric drilling machines; portable forge and anvil; bench and 2 vises; 7½ kw. generator and charging board.

Barge Equipment: 2 benches, each with 6'' vise; portable electric welding set; oxy-acetylene welding-cutting set including 6 oxygen, 4 acetylene bottles. Stowage for spare batteries for craft. Coal stowage. 4 tons fresh water carried.

Endurance: 360 miles @ 5 kts. Speed, 6 kts. (max.) on powered units.

Armament: One 20 mm.

Armor: 10-lb. steel plating over cabin.

Crew: 2 officers, 16-22 men with accomodations; 6-10 additional men in hammocks.

Propulsion: Being fitted with 2 Chrysler RM gasoline engines, single rudder.

Source : ONI 226 - ALLIED LANDING CRAFT AND SHIPS - NAVY DEPARTMENT