Allied Landing Craft and Ships
Choose the model
DUKW -- LBE -- LBK -- LBO -- LBV (M) -- LCA -- LCC (1) -- LCF (3) -- LCG (L) (3) -- LCH -- LCI (L) 1-350 -- LCI (L) 351-1098 -- LCM (3) -- LCP (L) -- LCS (L) (3) -- LCS (S) (1) -- LCT (5) -- LCT (6) -- LCV -- LCVP -- LSD -- LST -- LVT (2) --
---
LANDING BARGE, KITCHEN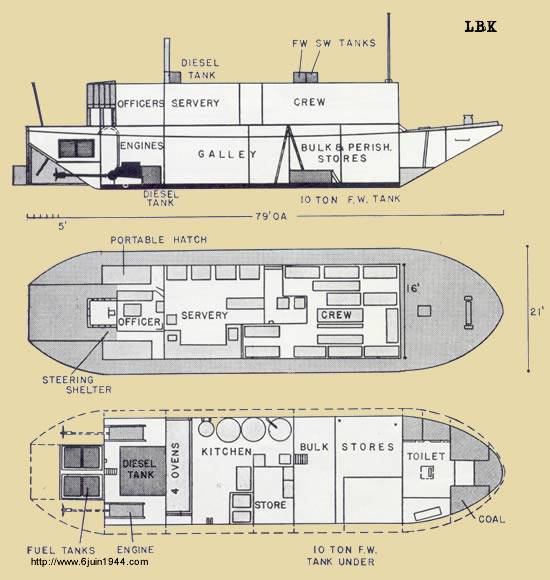 Operational use: To serve as floating kitchen to groups of landing craft.

Description: Converted from steel swim barges, similar to the LBE-LBO.

Capacity: Storage and issuing space for enough provisions to feed 900 men for one week.

Dimensions: 79' o.a. x 21' x 3'6'' draft (estimated).

Armament: None.

Armor: 2½'' plastic to Diesel tanks, engines, steering shelter.

Crew: 1 officer, 24 men.

Endurance: 300 miles @ 5 kts. (estimated).

Propulsion: 2 Chrysler engines.

Fuel: 600 gallons gasoline.

Source : ONI 226 - ALLIED LANDING CRAFT AND SHIPS - NAVY DEPARTMENT