Allied Landing Craft and Ships
Choose the model
DUKW -- LBE -- LBK -- LBO -- LBV (M) -- LCA -- LCC (1) -- LCF (3) -- LCG (L) (3) -- LCH -- LCI (L) 1-350 -- LCI (L) 351-1098 -- LCM (3) -- LCP (L) -- LCS (L) (3) -- LCS (S) (1) -- LCT (5) -- LCT (6) -- LCV -- LCVP -- LSD -- LST -- LVT (2) --
---
2 1/2-TON, 6 x 6, AMPHIBIAN TRUCK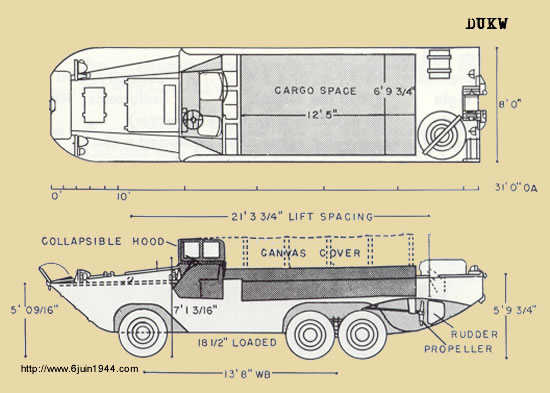 Operational use: Amphibious Army truck for ship-to-shore transport, capable of operating in a moderate sea and surf.

Description: 6-wheeled truck with a boat hull, propeller in tunnel, and small rudder. Hold may be covered by portable canvas and litters; cockpit has collapsible hoad. Sometimes carried at davits, generally transported on the decks of ships.

Capacity: 25 troops and equipment or 12 loaded litters, or 5,000 lbs. of cargo, all limited by freeboard.

Endurance: 400 miles at 35 miles per hour on land.

Speed: 5.5 kts. in water; 50 m.p.h. (max) on land.

Displacement: Light, 13,000 lbs. Loaded, 18,600 lbs.

Propulsion: 6-cylinder GM engine; 6-wheel drive on land; propeller in water; steered in water by front wheels and small rudder.

Crew: One.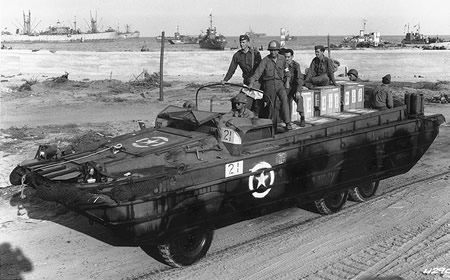 Source : ONI 226 - ALLIED LANDING CRAFT AND SHIPS - NAVY DEPARTMENT