Allied Landing Craft and Ships
Choose the model
DUKW -- LBE -- LBK -- LBO -- LBV (M) -- LCA -- LCC (1) -- LCF (3) -- LCG (L) (3) -- LCH -- LCI (L) 1-350 -- LCI (L) 351-1098 -- LCM (3) -- LCP (L) -- LCS (L) (3) -- LCS (S) (1) -- LCT (5) -- LCT (6) -- LCV -- LCVP -- LSD -- LST -- LVT (2) --
---
LANDING SHIP, TANK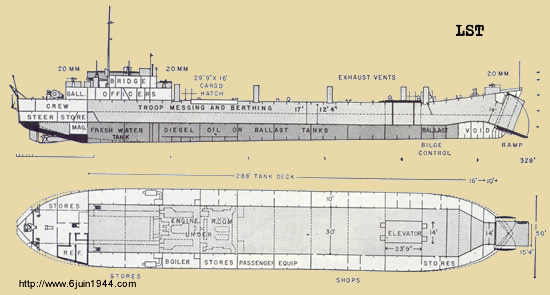 Operational use: Ocean-going ship designed to land waterproofed tanks or vehicles over a low ramp on a 1 / 50 beach slope.

Description: An American design now the United Nations standard. Elevator and hatch service main deck where miscellaneous vehicles and cargo are stowed. Starting with LST-513 and excepting LST-531, main deck ramp is substituted for elevator. For inaccessible landings, sectional pontoons are used, or earth causeways built. LCT (5) or (6) may be carried in sections or as a unit on main deck.

Capacity: Ocean-going load is limited to 2,100 tons on LST (1) class and 1,900 tons on LST-542 class. Of this maximum, main deck load is 350 tons. Main deck is designed for concentrated load of trucks having 10-ton gross weight. When this load is exceeded, as in case of LVT's, vehicles should be loaded over short span side beams with planking to distribute load.
Tank deck load is designed for concentrated load of heaviest tanks. The limiting height from deck to underside of lights in this space is 11'3''. Volume is 92,765 cubic feet. 1,060 tons of Diesel oil can also be carried.

Endurance: 6,000 miles radius @ 9 knots. Speed, 10.8 knots (maximum).

Displacement: Sea-going (full load pf 2,100 tons) 4,800 tons. Draft, 8' fwd., 14'4'' aft.
Landing (full load of 500 tons) 2,160 tons. Draft, 3'1'' fwd., 9'6'' aft.
Light 1,490 tons. Draft, 1'6'' fwd., 7'5'' aft.
Tons per inch immersion Landing Displacement 33.3
Tons per inch immersion Ocean-going 33.5
LST-542 class has a light displacement of 1,623 tons. The increased displacement is a result of the additions of authorized armament, a distilling plant (4,000 gallons per day), and other miscellaneous weight increases. Payload to maintain designed landing draft is decreased accordingly.

Dimensions: Length, 328'0'' o.a.. Beam, 50'0''

Armament: 1-3"/50 cal. D.P. (omitted when 40's are available) - 1-40 mm. (7 authorized). - 6-20 mm. (12 authorized).

Armor: 15-lb. STS splinter protection.

Crew: (2 davit)- 7 officers, 204 men. Troops- 16 officers, 147 men.
(6 davit)- 9 officers, 220 men. Troops- 14 officers, 131 men.

Propulsion: Two 900-hp. Diesels; twin screw.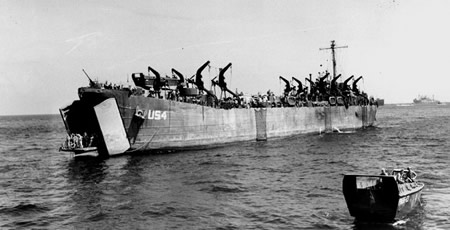 Source : ONI 226 - ALLIED LANDING CRAFT AND SHIPS - NAVY DEPARTMENT