Allied Landing Craft and Ships
Choose the model
DUKW -- LBE -- LBK -- LBO -- LBV (M) -- LCA -- LCC (1) -- LCF (3) -- LCG (L) (3) -- LCH -- LCI (L) 1-350 -- LCI (L) 351-1098 -- LCM (3) -- LCP (L) -- LCS (L) (3) -- LCS (S) (1) -- LCT (5) -- LCT (6) -- LCV -- LCVP -- LSD -- LST -- LVT (2) --
---
LANDING BARGE, OILER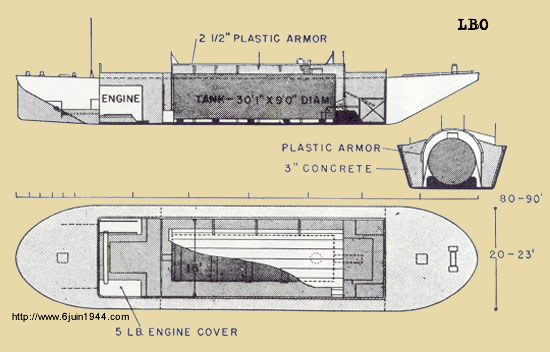 Operational use: Small barges equipped to refuel or supply minor landing craft in a beaching area.

Description: Converted frm Thames commercial steel barges of various dimensions. Absence of ramp distinguishes them from other conversions.

Capacity: 40 tons in tank; some are divided into 2 sections for different types of fuel. Fitted with two 5'' hand pumps with capacity of 1,800 gals./hr. each. Tanks are filled by 2'' Admiralty screwed hose. Fire extinguishers are controlled from the upper deck.

Speed: 6 kts. (max.) on powered types.

Endurance: 360 miles @ 5 kts.

Draft: 4'6'' - 6' mean (loaded).

Armament: 1 twin .303 Lewis gun.

Armor: 2½'' plastic over fuel and gasoline tanks and to steering shelter. - 3'' concrete sides to hold. - 5-lb. plating over engine. - 10-lb. WT bulkheads in ramp entrance and forward of engine room.

Propulsion: 2 Chrysler RM gas engines and single rudder being fitted.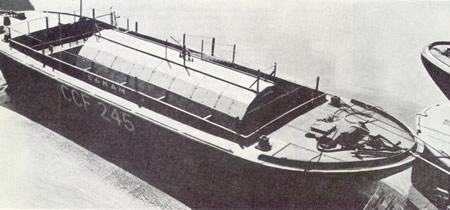 Source : ONI 226 - ALLIED LANDING CRAFT AND SHIPS - NAVY DEPARTMENT