Allied Landing Craft and Ships
Choose the model
DUKW -- LBE -- LBK -- LBO -- LBV (M) -- LCA -- LCC (1) -- LCF (3) -- LCG (L) (3) -- LCH -- LCI (L) 1-350 -- LCI (L) 351-1098 -- LCM (3) -- LCP (L) -- LCS (L) (3) -- LCS (S) (1) -- LCT (5) -- LCT (6) -- LCV -- LCVP -- LSD -- LST -- LVT (2) --
---
LANDING CRAFT, TANK (MARK 5)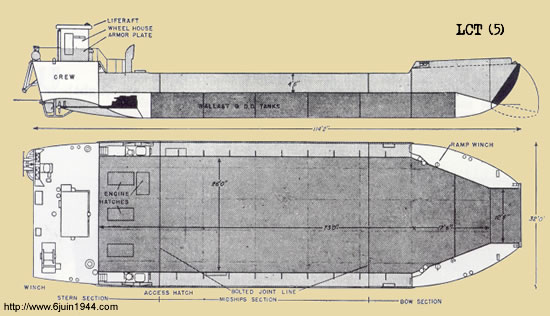 Description: American design now standard for the United Nations, although superseded in production by LCT (6). This type is constructed in 3 watertight sections and may be transpoted disassembled on decks of larger vessels. An LST can carry 5 of these sections, or an assembled LCT, which is launched over the side by listing. An LSD can transport 3 loaded LCT (5)'s in its hold. Designed to beach on a slope of 1/120.

Capacity: Five 30-ton, or four 40-ton, or three 50-ton tanks; or 9 trucks; or 150 tons of cargo. Freeboard limits load to 150 tons. No troop accomodations.

Endurance: 700 miles @ 7 kts. (loaded).

Speed: 8 kts. (max.).

Dimensions: 117'6'' o.a. Beam, 32'.

Displacement: Light, 134 tons. Draft 1'6'' for'd, 3'9'' aft.
Landing, 286 tons. Draft 2'10'' for'd, 4'2'' aft.
Tons in immersion, 7.5 in landing condition.

Armament: Two 20 mm.

Armor: 2½" plastic on pilothouse sides, 2'' gun positions.

Crew: 1 officer, 12 enlisted men.

Fuel: 11.12 tons fuel, 140 gals. lube.

Propulsion: 3 Gray 225-hp Diesels, triple screw.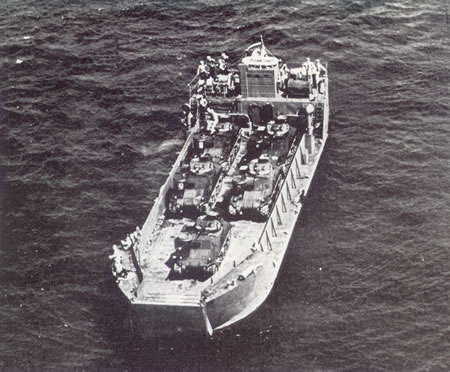 Source : ONI 226 - ALLIED LANDING CRAFT AND SHIPS - NAVY DEPARTMENT