Allied Landing Craft and Ships
Choose the model
DUKW -- LBE -- LBK -- LBO -- LBV (M) -- LCA -- LCC (1) -- LCF (3) -- LCG (L) (3) -- LCH -- LCI (L) 1-350 -- LCI (L) 351-1098 -- LCM (3) -- LCP (L) -- LCS (L) (3) -- LCS (S) (1) -- LCT (5) -- LCT (6) -- LCV -- LCVP -- LSD -- LST -- LVT (2) --
---
LANDING CRAFT, SUPPORT (SMALL) (MARK 1)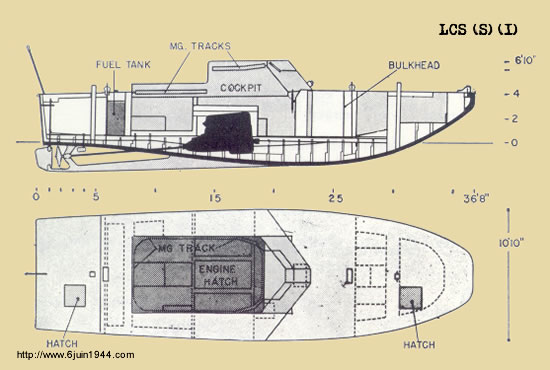 Operational use: To render close supporting automatic and rocket fire to assault waves; may furnish base of fire to facilitate initial maneuver of troops in a beach area. It is capable of beaching.

Description: Small wooden motoboat greatly resembling the LCC. Usually transported on the deck of APA's or AKA's, sometimes on davits.

Capacity: 3-4 men plus crew and gunners.

Endurance: 115 miles (full speed). Speed, 12 kts.

Dimensions: Length, 36'8'' o.a. Beam, 10'10''.

Displacement: Light, 20,000 lb. 22,000 lb. (standard). Draft, 3'6''.

Armament: Two .50-cal or three .30-cal or one .50-cal and two .30-cal M.G.; 2 barrage rocket projectors carried on some units; 8 Mk.III smoke pots. When rockets are fitted, some guns are usually removed.

Armor: 1/4'' plating to bridge.

Crew: 6.

Fuel: 180 gallons.

Propulsion: 1 Hall-Scott 250-hp. gas engine.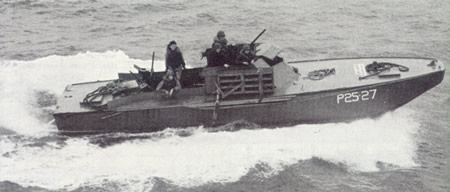 Source : ONI 226 - ALLIED LANDING CRAFT AND SHIPS - NAVY DEPARTMENT