Allied Landing Craft and Ships
Choose the model
DUKW -- LBE -- LBK -- LBO -- LBV (M) -- LCA -- LCC (1) -- LCF (3) -- LCG (L) (3) -- LCH -- LCI (L) 1-350 -- LCI (L) 351-1098 -- LCM (3) -- LCP (L) -- LCS (L) (3) -- LCS (S) (1) -- LCT (5) -- LCT (6) -- LCV -- LCVP -- LSD -- LST -- LVT (2) --
---
LANDING CRAFT, TANK (MARK 6)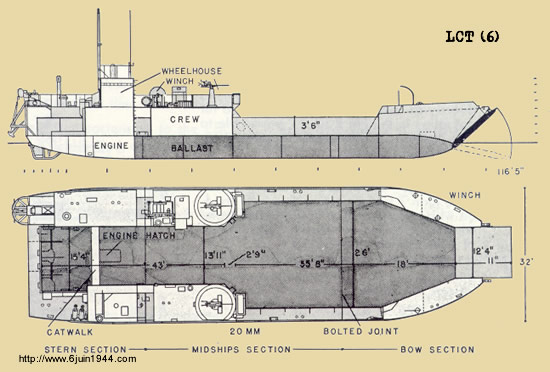 Operational use: Same as previous designs. In emergencies, this craft can serve as a floating bridge for unloading LST's. This is accomplished by mooring LST and LCT in line.

Description: LCT (5) hull modified to permit stern loading and increased living spaces.

Capacity: Four medium or three 50-ton tanks, or 150 tons cargo. Accomodations for 8 troops.

Endurance: 700 miles @ 7 kts. Speed 8 kts. (max.).

Dimensions: Length, 120'4'' o.a. Beam 32'.

Displacement: Light, 143 tons; Landing, 284 tons.
Tons in immersion, 7.5 in landing condition.

Draft: 3'4'' for'd, 4'0'' aft (landing conditions).

Armament: Two 20 mm.

Armor: 20-lb. STS on pilothouse for'd. - 15-lb. STS on pilothouse sides. - 10-lb. STS on splinter shields.

Crew: 1 officer, 11 men.

Propulsion: 3 Gray 225 hp. Diesels.

Fuel: 11.12 tons fuel oil, 140 gal. lube oil.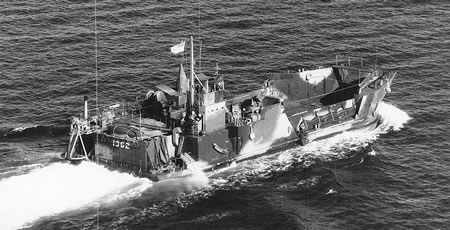 Source : ONI 226 - ALLIED LANDING CRAFT AND SHIPS - NAVY DEPARTMENT