The beach obstacles
The first defences the allies will have to face are beach obstacles. Their construction had been sped up since Rommel inspection tour in January 1944.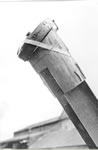 The first line of obtructions is made of "C" Elements, also knows as "Belgian Gates. It is built out of girders and the three vertical ones are meant to tear open a ship's hull while it's structure is strong enough to resist tides and boats trying to knock them over.
The second line consist of stakes or posts. The wooden or metalic stakes are facing the sea and are aimed at riping the hull of the landing crafts. Some of them are topped with mines ready to detonate at impact.
The posts, heads facing the coast and inclined at about 40° are meant to capsize boats that would happen to pass over and some of them are even equiped with metalic teeth to rip hulls open.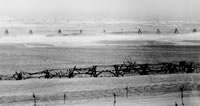 The last line of obstacles is made of hedgehogs (sometimes called Czech hedgehogs). It is build with three riveted girders put together with metalic plates. Notches in the upper part are supposed to tear the hulls and hold back the crafts in the fields of fire of the defenders. Their bases are driven into concrete to stabilize them.
Lots of these obstacles that could not be removed in time before the landing of the first wave would be used as covers by the GIs pinned down under the german machineguns fire.
The Resistance Nests (Widerstandnest or WN)
The 7km-long beach sector, flanked by cliffs, is defended by light resistance nests numbered Wn60 to Wn 74. There is no heavy strongpoints (Stützpunkt) in this area nor any artillery batteries in concrete casements, the nearest are at Longues sur Mer to the east and at the Pointe du Hoc to the west.
At dawn on D-Day, the construction of the defenses is far from being complete, some pillboxes haven't received their guns yet but are nonetheless formidable.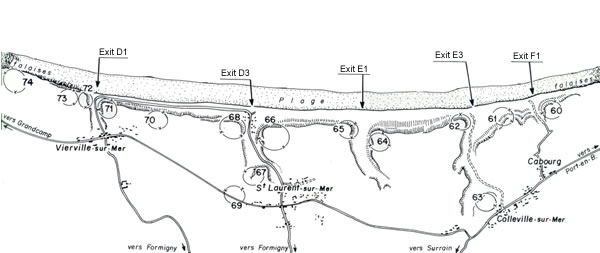 WN 60
WN 61
WN 62
1 75mm gun
3 tobruks with mortars
1 mortar position
1 Flak 38 20mm gun
flamethrowers
1 88mm Pak in pillbox
1 50mm Pak in concrete emplacement
1 tobruk with an R35 tank turret
2 tobruks with MGs
flamethrowers
2 75mm guns in pillboxes
2 50mm Pak guns
3 MG positions
1 tobruk with MG
2 tobruks with mortars
1 twin-AA MG in concrete emplacement
1 artillery observation post
flamethrowers

WN 63
WN 64
WN 65
Company HQ
Radio station
1 76,2mm gun
1 20mm Flak gun
2 tobruks with mortars
1 50mm Pak in pillbox
1 50mm Pak in concrete emplacement
1 75mm gun
2 tobruks with mortars

WN 66
WN 67
WN 68
1 50mm Pak in concrete emplacement
1 AT gun
2 tobruks with tank turrets
2 heavy mortars in concrete emplacements
1 double-embrasure pillbox

320mm rocket-launcher position
1 50mm Pak in concrete emplacement
1 AT gun
2 tobruks with tank turrets
1 double-embrasure pillbox
WN 69
WN 70
WN 71
1 Flak gun
MG positions
1 75mm gun in pillbox
1 75mm gun
4 tobruks with MGs
2 mortars in concrete emplacements
1 20mm Flak gun
1 observation post
MG positions
1 tobruks with MG
1 mortar in concrete emplacement
1 double-embrasure pillbox

WN 72
WN 73
WN 74
1 88mm Pak in pillbox
1 50mm Pak double-embrasure pillbox
MG positions
1 tobruk with MG
1 double-embrasure pillbox
1 75mm gun in pillbox
3 tobruks with mortars
MG positions
1 observation post
2 75mm guns