6 June 1944 Crash Sites – Legends and realities
by Patrick Elie and Philippe Nekrassoff
42 USAAF Douglas C-47s did not return from the missions of 6 and 7 June 1944.
They were shot down by German flak and crashed, made a forced landing in the Cotentin peninsula, or ditched in the Channel.
The locations of these crashes on the mainland are, for the vast majority of them, localized and especially confirmed. However, confirmation of the loss site, serial number, and crew for two aircraft appears to have never been done completely, nor we believe, accurately.
Who initially claimed and offered the correlation between a crash location and the aircraft, or which sources were used has been lost to history, but we will see that in the following two instances, that correlation appears to be wrong.
1 – C-47A-15-DK #42-92868 – Sainte Mere Eglise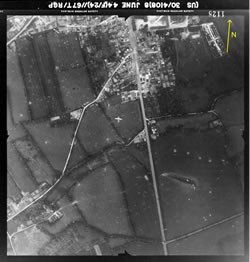 This well-know aerial photo, taken June 8, 1944, shows the trace of a crash on the right side of the N/S road, located south of Sainte Mere Eglise.
Having, like others, researched information about this trace, we have heard many times that it's the aircraft flown by Lieutenant Roycraft and his 313th TCG crew.
Facing so much insistence and assurance we had finally agreed on this statement... for the time being!
Lieutenant Roycraft's aircrew consisted of :
- 1st Lt. Roycraft, William R. (P)
- 1st Lt. Shipley, Robert F. (CP)
- 2nd Lt. Romney, Walter R. (N)
- Sgt. Geyer, Roy W. (RO)
- T/Sgt. Schumacher, Martin R. (CC)

In order to confirm or deny what is known about this crash, we asked for the IDPFs (Individual Deceased Personnel File) for these crew members. We have received and read them, 325 pages for the entire crew. And among these 325 pages, parts from two of them caught our attention, answered our questions, and 'twisted a Legend's neck.'

The first item of interest was that of Lieutenant Romney, Navigator aboard the C-47, which included an extract from a death report for three members of the crew, pilot Roycraft, co-pilot Shipley, and crew chief Schumacher.





'Report of Burial' found also in the IDPFs give the cause of death.



Three crew members bodies washed ashore from the English Channel – not well inland as conventional wisdom has led us to believe for decades.
The Veterans Administration also wrote the following to the Navigator's wife, Lieutenant Romney, in 1951.

These official documents confirm that Lieutenant Roycraft's C-47 did not crash south of Sainte Mere Eglise, but into the Channel and that the crew's bodies were found on a beach few weeks later.
---
2 – C-47A-75-DL #42-100876 – L'Isle Marie

Multiple books, websites, and monuments contend that Lieutenant Marvin Muir's C-47 had crashed near Isle Marie, between Chef du Pont and Pont l'Abbe.
This most common photo is used to support the claim: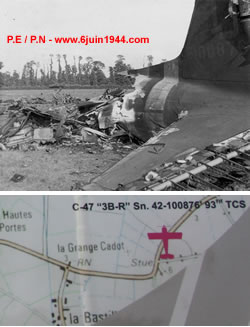 In fact, this photo doesn't tell us much except the serial number of the C-47, which we'll call '876.' We are curious about the location and would like to have more evidence, which may seem logical.

The Internet and the possibilities of modern communication allow us to obtain other photos, including aerial photos, that we can cross-analyze and sometimes, find evidence that will confirm or refute an old statement taken for granted by many people, authors and historians.
If we look at the information displayed on the map of the monument at Picauville (notwithstanding the wrong tail letter), Marvin Muir's aircraft crashed near l'Isle Marie.
So, like the C-47 that crashed south of Ste Mere Eglise, we started looking for a track on the aerial photographs taken on June 6th or the following days..
Following photographs were taken on June 6th


or on June 8th


These photographs are of course zoomable, and others are also available ... but there is no trace of a plane. Remember that the initial photograph shows aircraft '876' on ground that is dry as far as the woodline in the distance, and these pictures show that Isle Marie is completely surrounded by water.
A plane crashed in one of these photographs would have been spotted, and for a good reason.
By zooming in on one of these photos, we clearly see the wreck of #43-15101 flown by Raymond Howard and shot down during mission Chicago. It is just east of Isle Marie, in the water.


There is no doubt for us - if Muir's aircraft was in the immediate vicinity of Isle Marie, we would see it, especially since in the initial photograph, there seems to be the signs of a major crash in a dry field that seems quite large.
We extended our research towards Picauville, Chef du Pont and Beuzeville la Bastille for which aerial photos are also available.
Nothing, not a trace! We did not find anything.
Then, we managed to get more photos taken on the ground which, after a careful observation, also turned out to be Marvin Muir's C-47.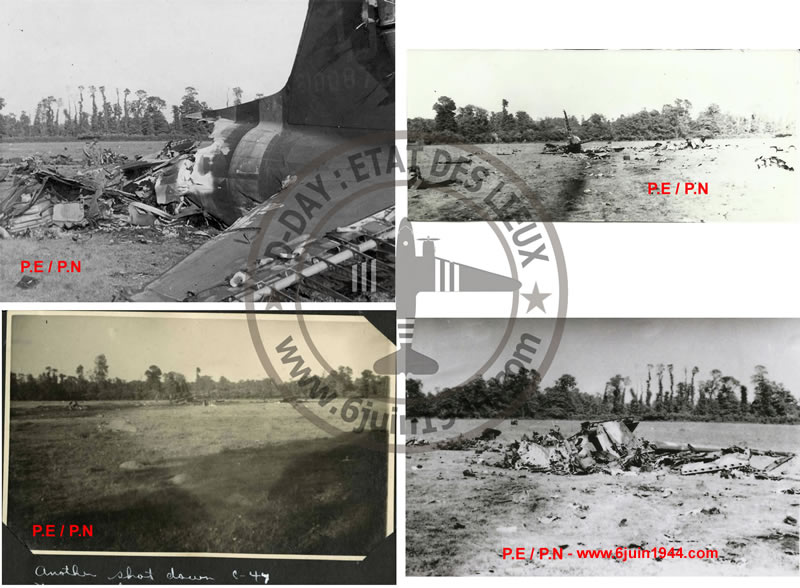 How did we determine that it was the same aircraft on these different pictures? Very simple, just look at the shapes of the trees to realize that we are in the same field as the picture initially known.
The extensive observation of two shots also allowed us to detect an important element: The wing of the aircraft, located between the yellow arrows in the following photos.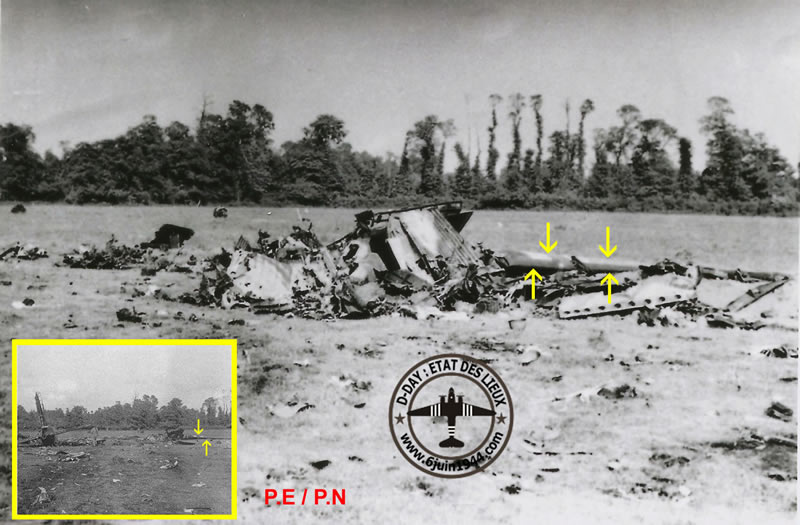 The black and white invasion stripes are clearly visible and we can also determine that the leading edge is facing the photographer. The de-icer shoe is also visible on the photo. It should not be painted and the white stripe stopped just before it.
The discovery of the wing and its position in these shots reminded us immediately of an aerial photo where a wing is clearly visible and where we are sure it is a C-47 .....
Zooming on the part that interests us can reveal elements.


On the zoom we can see that the leading edge of the wing, from its dihedral, is on the left . The wing is upside down because, in the photo, we can discern the trace of the painted star on the underside of the right wing only. Another element to assert that it is the right wing: Years later HJR has found at this place an intact C-47 wing tip with, at its end, the green navigation light always present on right wings.
Taking a photograph between the point of impact and the empennage or between the empennage and the wing will give a result identical to the photographs presented above.
We have also requested the IDPFs for the five aircrew members and for the paratrooper who stayed on board and was killed also during the crash. When we will receive them it will bring more information to add on this research.
All these observations allow us to affirm that the C-47 crashed at the south entrance of Sainte Mere Eglise is C-47 #42-100876 belonging to the 93rd Troop Carrier Squadron - 439th Troop Carrier Group piloted by 2nd Lieutenant Marvin F. Muir and his crew.
Also mis-information must no longer be disseminated across the Internet or, worse, on the monument to lost aircraft in Picauville.
Tail letter is not « R » as we can read on many websites which picked up information without checking it but « O » as shown in MACR n° 7289.



U.S.A.A.F Aircrews

C-47A-15-DK #42-92868
49th TCS - 313th TCG

C-47A-75-DL #42-100876
93rd TCS - 439th TCG


Pilot :
Co-Pilot :
Navigator :
Radio Operator :
Crew Chief :

Passenger :

1st Lt. Roycraft, William R. (O-729243)
1st Lt. Shipley, Robert F. (O-669624)
2nd Lt. Romney, Walter R. (O-807313)
Sgt. Geyer, Roy W. (36351713)
T/Sgt. Schumacher, Martin R. (16037695)

2nd Lt. Muir, Marvin F. (O-541641)
2nd Lt. Bell, Kenneth C. (O-705291)
2nd Lt. Marisay, John A. (O-697894)
Sgt. Snyder, Philip. (13081009)
S/Sgt. Burgess, Clifford L. (14140642)

Sgt. Ervin, Simmie C. (39531003) 506 PIR 2HQ

To recap our findings, we believe clear and convincing photographic evidence proves that these two aircraft and their crews have been mis-located, and in order to honor the memory of the young airmen lost in the Liberation, the historical record must be corrected.

If you have other photographs or documents about these two aircraft or their crews, feel free to contact us

We are open to any discussion, remarks or additional elements that may be added to the file.

© Patrick Elie - Philippe Nekrassoff - January 2018

Thanks to Brian Siddall, Bob Leicht and Neil Jones for their help.

Photographs are from privates collections, aerial photographs are from National Collection of Aerial Photography.