Leonard Smith.
R.A.S.C. Corp
About a mile or so from the French coast I and my DUKW was unceremoniously slung over the side of the supply ship and into the sea and I had to drive that distance onto the beach to rendez-vous with the rest of my platoon and to discharge the load of stretchers that I was carrying. This beach was to be known as JUNO Beach, and the name of the place where I landed was Bernieres-sur-Mer.
I must point out at this time that all hell had broken out, the noise from all types of gunfire, shells and bombs exploding everywhere. What I was about to witness in the next few hours, and months no training or teaching in the world could prepare you for. Death and destruction was all around me, they were unbelievable scenes and ones that I will never EVER forget, but for all that I had a job to do and had to get on with it if I wanted to survive.
We made our H.Q. in a small Chateau about a mile from the beach, and by midday the Canadian infantry had got about 3-4 miles inland and were able to set up a supply dump this meant that we could start our work of getting supplies ashore from the supply ships as quickly as possible.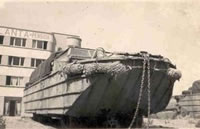 We worked from dusk till dawn every day, seven days a week. Do you know what, I was sat in my D.U.K.W. at four thirty in the morning, waiting to go down to the beach to start work when our Provo corporal climbed up the side of my vehicle and said "caught you Smithy" , Smoking on a W.D. vehicle, and put me on a charge, I went before the C.O. next morning and got stopped two weeks pay, and this was in the first week of the invasion, how's that for discipline. It didn't end there two weeks later the very same Corporal Cleckner, did me for being improperly dressed, i.e., not wearing my hat, that cost me another two weeks pay, so in five weeks I lost four weeks pay but what the hell there was nowhere to spend it anyway.
Because the Germans had us bogged down we worked the beaches with our DUKWs, for about five weeks till the fall of Caen, which I think, was about the middle of July. We then changed the DUKWs for three ton lorries namely Ford Wat Six's, they turned out to be really good, reliable workhorses.
Leonard Smith (March 03, 2009)