Howard Huebner
Pfc - C Co. - 507th Parachute Infantry Regiment - 82nd Airborne

Version Française
My name is Howard Huebner; I was a paratrooper in the 507 parachute infantry regiment and attached to the 82nd Airborne Division for the d-day jump 1944.
A week before we jumped we were sent to an airport in England which was enclosed by barb wire fence and had guards around it to keep us in and people out. We didn't know where we were going until we had our fighting gear on and about to get into the airplanes. We knew the area where we supposed to land as we studied it on sand tables and then had to draw it on paper by memoir, but that all faded as our regiment was the last to jump and things had changed on the ground and most of us missed our drop zone by miles. We the 507 was supposed to land 15 miles in land. But I landed 3 or 4 miles from Utah beach by the little town of Pouppeville.
As we were over our drop zone there was a plane down burning, later found out it was one of ours. The flack was hitting the plane and everything from the ground was coming our way looked like Fourth of July.
When I hit the ground I was about 200 yards from a house where the Germans were staying. I could hear them yelling muck schnell toot sweet americanos. They started there motorcycles up and went in land as I was only about 100 feet from water which the Germans had flooded and if they had went that way they would have ended up on Utah beach.
I fought with some of 101st Airborne fellows that day and d-day afternoon, we took about 75 prisoners down to Utah beach. I stayed on the beach that night and the next day I took off looking for my Co. When I did, they were on the way to the la Fiere causeway.
We relieved the 505 Para. Inf. there and gen. Gavin gave my Co. Commander Bob Rae orders to take the causeway. We did June 9, 1944, with the 325 Glider troop, they started and we finished but it took a lot of lives around 500 fellows died there for about 1/4 to 1/2 miles of road which was flooded on both sides as most of Normandy was flooded. It took the Germans 4 years to flood and 6 months to drain.
The 507 last battle was at Vindefontaine, it was a morning attack on the village we cleared the Germans out and then waited to be relieved and sent back to England after 33 days of fighting without any replacements.
The 507 went in with about 2000 men and came out with about 800. My company, C Co. had around 75 of us left out of about 230 men. We the 507 had the worst drop of all paratroopers on d-day why I guess because we were the last ones and the fellows before us had stirred the bees up (Germans).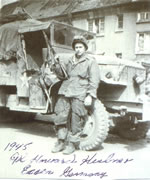 I was in the 507 parachute infantry regiment C Co. 1st battalion attached to the 82nd Airborne Division for d-day June 6, 1944.
After d-day the 507 was assigned to the 17th Airborne Division. When the war ended I was put into the 505 parachute Inf. Reg. of the 82nd again and sent to Berlin Germany for occupation duty.
I served in the army paratroops from 1943 to 1946 when discharged. I was 21 yrs old when we jumped into Normandy.
Howard Huebner (June 29, 2004)