Sgt. Michael N. Ingrisano, Jr. ASN 12129759.
Radio Operator - 37th Troop Carrier Squadron, 316th Troop Carrier Group.

Version Française
Radio Operator, Aircraft Serial Number: 43-15510; Squadron Identification: W7; Nose Number: 25; Tail Letter "F". For D-Day Normandy Operation "Neptune-Boston" Chalk Number: 50. Departure point: Cottesmore, England, carrying elements of the 505th PIR, 82nd Airborne Division, 3rd Battalion, commanded by Lt. Col. Edward C. Krause.
The account by Pfc. Leslie Palmer Cruise, Jr. H Company, 505 PIR may well have been of our squadron since Colonel Krause dropped from squadron's lead plane, piloted by Lt. Col. Leonard C. Fletcher, co-pilot, Capt. Warren D. Rayburn, navigator, Capt. Frank B. Waters, crew chief, T/Sgt. Wilbur E. Evans, radio operator, Sgt. Maurice Smith. (see picture, p. 53, VALOR WITHOUT ARMS). Aircraft Serial Number: 43-30652; Chalk Number: 37.
Personal Recollections:
My personal recollections of the events leading up to D-Day, Normandy, the drop, and the after-action reactions begin actually on May 12, 1944 with Operation "Eagle."
Operation "Eagle" was the dress rehearsal for Normandy, simulating the time, a route, and drop as would be a reality on the night of 6 June. The biggest difference was that since the 82nd Airborne was manned by many veterans from the invasion of Sicily, it chose to have just a token number of troopers jump from our aircraft, with each plane carrying one paratrooper as an observer.
The 316th Troop Carrier Group had also dropped the 82nd on those fateful missions in Sicily, "Husky 1" and 'Husky 2", 9-11 July 1943. On "Husky 2", the 316th lost twelve aircraft destroyed by "friendly fire." Some of these planes went down with full complements on board. And many of the crews that survived manned the planes for the D-Day Normandy mission.
On May 12, Operation "Eagle" included some 800 aircraft from the 52nd TCW, 50th TCW, and 53rd TCW, from which the 101st Airborne Division were to drop full force, from the 50th and 53rd TC Wings.
For the 316th, the night flight was routine. The prescribed course was followed; token numbers of troopers were dropped on target, but then on the return to base, our lead plane from the 36th Squadron, and the lead plane from the 44th Squadron, collided in mid-air, with all hands lost. Included in the dead were our group commander, Lt. Col. Burton R. Fleet, and our Group Chaplain, Capt. Floyd N. Richert, riding along as passenger/observers, and two jumpmaster-observers, Captain John D. Rice, CO, Company B, and 2nd Lt. William A. Gullick, Company G, 82nd Airborne..
The impact of this loss was later described by one of the survivors of the Sicily invasion. Lt. Dwight Maul, 44th, stated: "This day, [May 12, 1944] is without a doubt, in my mind, the saddest day of my entire career with the 44th TCS, when Col. Fleet and Joe Sharber's airplanes collided in mid-air." Joe Sharber was Maul's roommate.
The sorrow from this loss permeated the entire group. But as the saying goes "a job still need to be done."
Move the calendar forward. Some 1300 men from the 82nd Airborne moved on to our base in Cottesmore. The entire bunch was isolated and left to prepare for the upcoming big show.

By June 3, all personnel were restricted to the base. We, in turn, continued to our chores, —flying routine in-country missions, and aircraft transitional training flights. When the word came down that the D-Day mission was imminent, the briefings began for pilots, co-pilots, navigators, and radio operators. Crew chiefs spent their time fine tuning their planes for peak performance.
Then when the mission was confirmed, final briefings were held early in the day of 5 June. All hands had previously turned out to paint the "war stripes" on every plane. Each plane was painted with five alternating twenty four inches wide stripes, three white and two black on each wing and on the fuselage between the rear door and tail section. This bold, visual identifier for all Allied planes was meant to safeguard against the possibility of any being shot down by "friendly fire'-shades of Sicily!
We needed then to care for the inner man. As far as I can recall, no chaplain had been appointed to replace Captain Richert. So we went to the Station Chapel, and each man worshipped in his own faith. The Catholics, like myself, were denied the sanctity of confession and penance. I have always recalled that not out of bitterness but as a feeling of emptiness that I may not had been prepared to face death as I had been taught.
The final "go" was given by General Eisenhower, after a one-day postponement for weather, for 5-6 June. The airborne troops were already at the planes doing their pre-flight readiness when we arrived at approximately 2130 hours. We were met by public relations types (from our Intelligence Office) who handed us a copy of Eisenhower's "Great Crusade" leaflet. I folded my copy, unread, and put it into my flight suit.
Boarded my aircraft with my gear which I put into the flight deck compartment which was right behind the co-pilot's position and just in front of my position. This gear consisted mainly of our clumsy seat-pack parachutes and arms which for the enlisted men were M-1 carbines. We also carried gas masks and escape kits, and a water-filled canteen on our ammunition belts. All personal identification, save our "dog tags", were left in our quarters.
We were also clothed in leggings, and steel helmets, and were provided with flak jackets, which I chose to place on my seat rather than to wear on my body. My reasoning was to protect myself from any incoming fire from underneath the plane.
Once those chores were done, the crew chief and I went back out of the plane to boost those overloaded paratroopers up the three steps into the cabin. The rear door had previously been taken off, and the hinged areas on both sides had been taped to prevent any trooper snagging his chute as he left the plane. The crew chief remained in the back of the plane to work with the jumpmaster, while I assumed my position on the flight deck.
Lift off by the 44th Squadron was at 2300 hours. The last plane from the 36th Squadron was off by 2320. My plane was in the fifth flight, where we flew on the right wing of leader. Our target was drop zone "O" [DZ] just slightly northwest of Ste Mere Eglise.
After forming into three ship vees and three vees to a flight, we headed for France. The flight was rather uneventful. But as we approached the coast of France, by craning my neck to the left, I was able to see out of the front wind screen. I saw a solid wall of light in which were embedded puffs of black smoke. (Flak and small arms fire, I guessed, never having before seen such a sight.)
Because of radio silence, my chores were quite limited. So I moved across the aisle to the navigator's usual position because there was no opening where I could look out from my position.. Since only the lead plane in each flight had a navigator on board, that area on our plane was vacant. There was a small opening, approximately eighteen inches long and four to six inches high, which the navigator used for dead reckoning. That is, viewing the ground for known site locations, railroad tracks, highways, etc.
When I looked down and out, I could see the vast armada sitting off the coast. Then I was astonished to see a woman, dressed in a white gown, sitting on our left wing tip. I immediately recognized she as my fiancée. She turned toward me, smiled, and said: "Mike, don't worry. You'll be OK." With that she disappeared.
We continued on our flight toward Ste. Mere Eglise. From overlays I have found in my research, my pilots estimated that we dropped our stick of troopers just slightly off to the northwest of the DZ.
After dropping our troops, I helped the crew chief to push out a 75-mm piece that we were carrying, and then helped him to pull the shroud lines into the plane to minimize drag.
I recall little about the flight home. At the debriefing by our intelligence officers, all I remember was the shot of scotch each of us was given to "calm our nerves." I also remember the fine breakfast which was prepared for us when we sat down to eat at approximately 0430 hours on 6 June.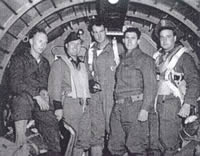 When I got back to my barracks which were across the street from the mess hall, I sat on my bed, pulled Eisenhower's message out of my flight suit, unfolded it and read it. On the front, upper right hand corner, I wrote: "June 6, 1944." On the back, I wrote: "Issued to all forces on D-Day. June 6, 1944. Order of the day. Note the Grime, Sweat (And unseen Prayer)." Below the word "Note" I placed an arrow pointing to the grime and sweat marks. which outlined and showed how the paper was folded. (This has been framed and is now hanging in my work den.)
In a letter dated 7 June, 1944, I wrote this to my fiancée: "You have heard me say it often and over again but allow me to repeat—there is more power in prayer than I ever realized."
On June 23, 1944, I landed in France for the first time. We were delivering 10-in-1 rations for the French people, and carrying wounded back to hospitals in England. As we came up to Omaha Beach, we flew over the gap just prior to settling on the steel matted runway. I looked out of the navigator's window and on the ground saw the bloody body bags of American soldiers who had been killed, awaiting burial.
When we landed and taxied to unload our cargo, the nurses on board the planes ran across the field to gather poppies which were blooming. We yelled for them to stop since we were not sure that the field had been cleared of land mines. Fortunately, no one was hurt.
Because of censorship, I was not able to describe the vision that I had seen on invasion night. In my July 5, 1944 letter, I wrote:
"I love you, Darling. I shall love you always. It is something I can't put into words. It is something that is not man made. I sound stupid and crazy if I mention it. I told it to Harry [my future brother-in-law, who was with headquarters IX Air Force] and he was kind enough not to laugh at me….I want you to share that time with me, if only to hear what I have to say. My story of God's kindness to make me realize our future….Since I cannot paint any picture, I can tell you that your name, you and everything about you was my guiding star, my guardian angel. Save this letter, Darling, save it. Never lose it. I need it to put into words, to substitute what I felt. Believe me, My Love, if you could have my mind for an hour, you would never doubt me….If you were with me for that hour, you would laugh because the happiness in your heart and soul would not permit you to cry….I know you will be left in the dark by this letter but believe all I have said…."
I flew approximately 1500 combat hours in twenty-one months overseas. In addition to the Normandy mission, I flew four missions to Holland (Market Garden), and the last mission (Varsity) to Germany. In all, my plane got its share of vital hits, but I was never touched physically!
I married my fiancée, Bettyjeane Hill, on 30 May 1945. She died of cancer on 9 July 1985. Two weeks after her death, my brother, Ted, who had passed away several years before, came to me in a dream and said: "Mike, don't worry about Bette. She's OK. She's with family."
Michael N. Ingrisano, Jr. (March 11, 2002)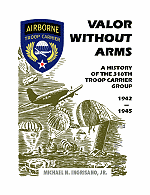 Michael N. Ingrisano is the author of a book :
VALOR WITHOUT ARMS - A History of the 316th Troop Carrier Group, 1942-1945 - ISBN 1-57638-233-8 - Merriam Press
Michael N. Ingrisano, as radio operator, flew with the 37th Squadron from August 1943 to the end of the war. His history is based primarily upon official records. It is heavily footnoted, contains personal recollections from members of the Group, and a roster of some 2700 names.