English version

A-23C (T3) - Querqueville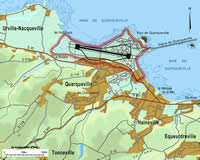 Le 850th EAB travaillait à la restauration des 2 aérodromes cherbourgeois : A-15 à l'est et A-23 à l'ouest. Ancien terrain de l'aéronavale française, il avait été occupé par la Luftwaffe qui l'avait saboté à son départ. La piste de 905 mètres fut portée à 1400. Occupé par les américains jusque en août 1945, il devint ensuite une base de l'aéronavale. Il ne subsiste rien des installations aujourd'hui.
CODE
& NO

NAME OF AIRDROME AND COORDINATES

RUNWAY

DEVELOPMENT

INITIAL
CONST
DATE

INITIAL
OPERA-TIONAL
DATE

DATE OF
RELEASE
BY USAAF

MONUMENT

No

LENGTH

WIDTH

SURFACE

GRID
AZ

ENG

CDT

A-23C
T3

Querqueville
O-090257 (LZ1)

1

4600

120

PSP

103°

850

Lt Col.
W. J.
Ray

30-6-44

6-7-44

5-8-45
SOURCES : USAF Historical Division Air University Department of the Air Force. The History of IX Engineer Command. Airfield statistics annex.
General Herbert W. Ehrgott, USAF, Chief of Staff, IX Engineer Command.
© Textes et illustrations: F. Robinard pour http://www.6juin1944.com - Tous droits réservés ©
© Cartes et profils: J. Clementine - Tous droits réservés ©