English version

A-25C (T5) - Bolleville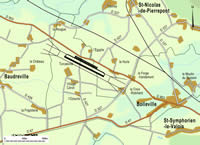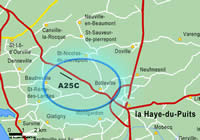 Le 833rd EAB, débarqué le 30 juin à Omaha, participa tout d'abord à la construction de A-13 à côté de Bayeux avant de se diriger vers l'ouest du Cotentin pour y construire le cinquième et dernier aérodrome de transport en Normandie. Aérodrome que l'USAAF garda assez longtemps, presque jusqu'à la fin de la guerre. Ce bataillon s'était aussi spécialisé dans la construction d'hôpitaux de campagne, ce qu'il fit ici où un vaste hôpital (164th) jouxtait la piste.
CODE
& NO

NAME OF AIRDROME AND COORDINATES

RUNWAY

DEVELOPMENT

INITIAL
CONST
DATE

INITIAL
OPERA-TIONAL
DATE

DATE OF
RELEASE
BY USAAF

MONUMENT

No

LENGTH

WIDTH

SURFACE

GRID
AZ

ENG

CDT

A-25C
T5

Bolleville
T-135804 (LZ1)

1

3600

120

SMT
PBS

117°

833

Lt Col.
E . A.
Galt

30-7-44

7-8-44

3-5-45
SOURCES : USAF Historical Division Air University Department of the Air Force. The History of IX Engineer Command. Airfield statistics annex.
General Herbert W. Ehrgott, USAF, Chief of Staff, IX Engineer Command.
© Textes et illustrations: F. Robinard pour http://www.6juin1944.com - Tous droits réservés ©
© Cartes et profils: J. Clementine - Tous droits réservés ©