English version

A-24C (T4) - Biniville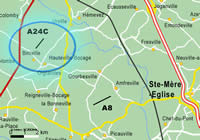 Le 830th EAB débarque le 4 juillet à Omaha et se rend à 35 km au nord-ouest à Biniville pour y construire un terrain affecté au transport et au stockage de matériel. Situé dans la partie ouest du Cotentin, le dépôt créé à côté de la piste d'envol, avec zone de manutention de 2000 pieds par 200 (664 mètres par 66), sera au profit de la 3ème Armée américaine de Patton. Ouverte dans un délai exceptionnel de 5 jours, la piste ne recevra jamais aucun revêtement, seule la zone de manutention (Apron) sera recouverte de PSP. Cela n'empêchera pas les installations d'être utilisées par les groups de transport.
CODE
& NO

NAME OF AIRDROME AND COORDINATES

RUNWAY

DEVELOPMENT

INITIAL
CONST
DATE

INITIAL
OPERA-TIONAL
DATE

DATE OF
RELEASE
BY USAAF

MONUMENT

No

LENGTH

WIDTH

SURFACE

GRID
AZ

ENG

CDT

A-24C
T4

Biniville
O-240001 (LZ1)

1

3600

120

Earth

42°

830

Lt Col.
B . P.
Melody

12-7-44

17-7-44

21-8-45
SOURCES : USAF Historical Division Air University Department of the Air Force. The History of IX Engineer Command. Airfield statistics annex.
General Herbert W. Ehrgott, USAF, Chief of Staff, IX Engineer Command.
© Textes et illustrations: F. Robinard pour http://www.6juin1944.com - Tous droits réservés ©
© Cartes et profils: J. Clementine - Tous droits réservés ©